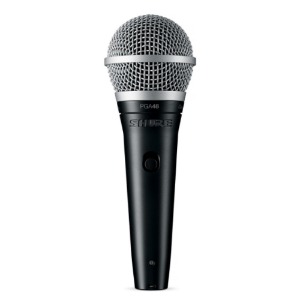 Shure PGA48
Make Brand
SHURE
Series
PG Alta
Applications

Multipurpose
General Vocals
General Instruments
Amps
Live
Studio
Documentation & Links
General purpose microphone excellent for speech vocals
The Shure PGA48 is an entry-level handheld dynamic microphone with cardioid polar pattern.
As a microphone designed for speech vocals, it has a sharp and bright tone with a focused boost in presence.
It's a member of the Shure PG Alta series family and like all microphones from this lineup, the PGA48 also comes with the signature design of a black metallic finish body with the classic silver ball grill. Its durable and forgiving for rough use, thanks to its light weight design of just 300 grams.
The effective frequency response bandwidth of the Shure PGA-48 ranges between 70Hz – 15kHz.
The lows appear accentuated as the response is measured from a distance of 0.6m/2feet. But for typical usage (~6 inches), they sound much fuller. Though, the proximity effect is negligible and allows the user to move around without affecting the tonal character.
There is an aggressive boost in presence, centering with a peak gain of 6.9 dB at 4.5kHz.
On some occasions though, it might be sibilant due to the sharp gain of 3.6dB at 11kHz.
The warmth is less pronounced which also compliments with the sharpness. It might not sound as great for singing professionally but makes a perfect choice for karaoke, rehearsals and speech vocals.
In conclusion, the tonal character of the Shure PGA48 can be outlined as sharp, clear and accurate in mids, present and bright in the highs.
Frequency Response Graph
Microphone.wiki
Can't View the graph ? Try refreshing this page or
click here
to view its image version instead.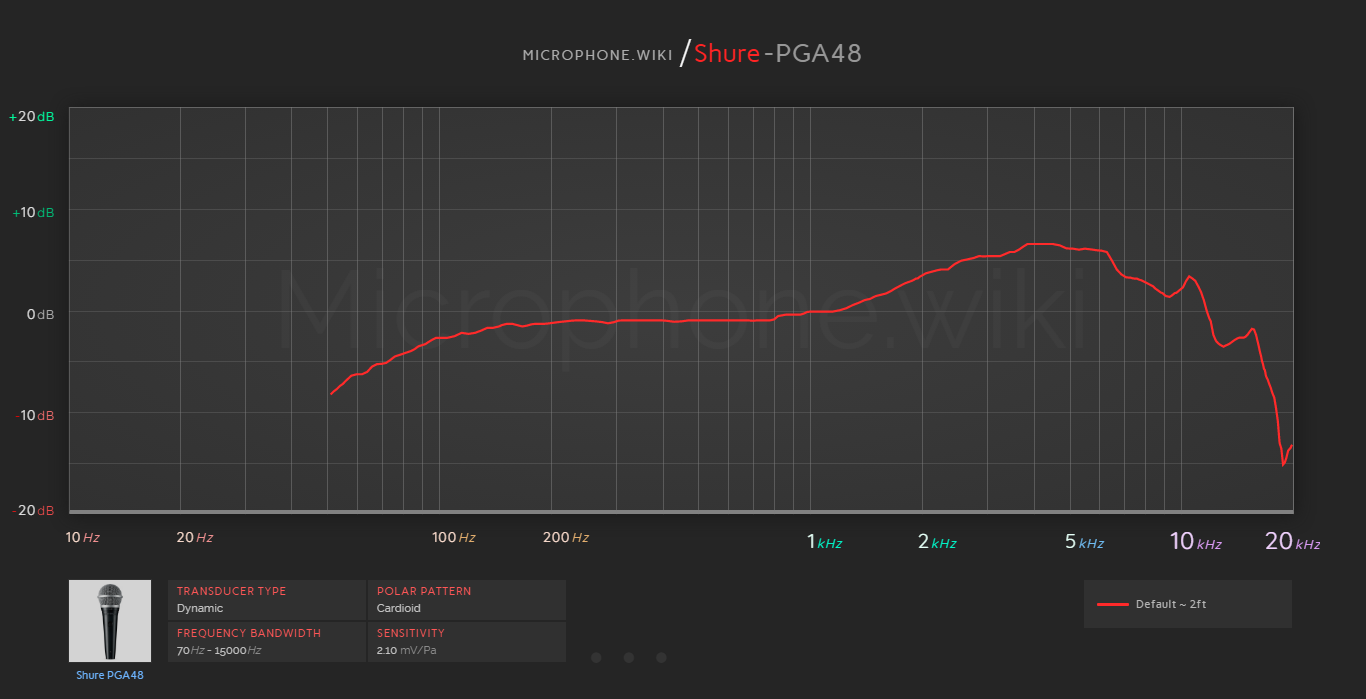 Technical Specifications
Transducer Type
Dynamic
Form Factor
Handheld
Pickup Pattern
Cardioid
Frequency Bandwidth
70

Hz -

15000

Hz

Sensitivity
2.10

mV/Pa

Output Impedance
600

Ω

Rated Input Impedance
2500

Ω

Max. Spl
147

dB SPL

Self Noise

N/A

Signal to noise Ratio

N/A

On/Off Switch
Yes
Pads

N/A

Connector
XLR
POWER REQUIREMENT

Not Required

Dimensions
166

mm

(L) x

N/A

(B) x

N/A

(H) x 55.1

mm

(D)
Weight
300

grams