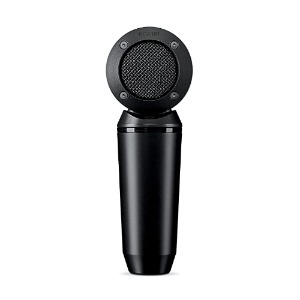 Shure PGA181
All rounder mic with smooth response
The Shure PGA181 is a semi-large diaphragm electret condenser microphone with side-address/cardioid polar pattern. It comes with a flat frequency response that makes it versatile and all-rounder for a wide range of instruments. As a condenser microphone, it requires 48V phantom power to operate which can be supplied via a pre-amp or an audio-interface.
Although its marketed mainly for instruments, it also works great for vocals as well.
For vocals, its not much flattering and a singer may find it slightly edgy / nasally at the mids, (this is quite common when flat response microphones are used for vocals). Although this doesn't make it unusable, but sometimes very useful for lead vocals to standout in a busy mix. The proximity effect is subtle and not very pronounced within a distance of 4 inches.
Users are very satisfied with this mic when it comes to record a variety of instruments, particularly an acoustic guitar, string instruments, horns, guitar amps, violin, toms, snares, drum overheads, cymbals and also a full band. People have also tried to record kick drums with averagely satisfactory results. It works great in a studio and as well as in live environments.
The mic comes with high sensitivity of 12.5mV/Pa which is helpful in capturing subtle details and nuances. To get the most out of the it, it requires a careful positioning, and you won't be able to tell the difference between this and a really high end microphone.
Given its name, one may compare it to the Beta 181, however the PGA181 is a completely different mic. First of all, its 2x larger and much heavier than the beta 181. Second they differ in the dynamics. The Beta 181 has some color in the highs (spike at 10-12kHz), but the PGA 181 is smooth and consistent throughout its frequency range.
Put together, if your budget is tight, we won't ask you to save up for a more expensive mic like the beta 181, but recommend to get the PGA 181. Although its economical, it comes with a great price/performance quotient.
Frequency Response Graph
Microphone.wiki
Can't View the graph ? Try refreshing this page or
click here
to view its image version instead.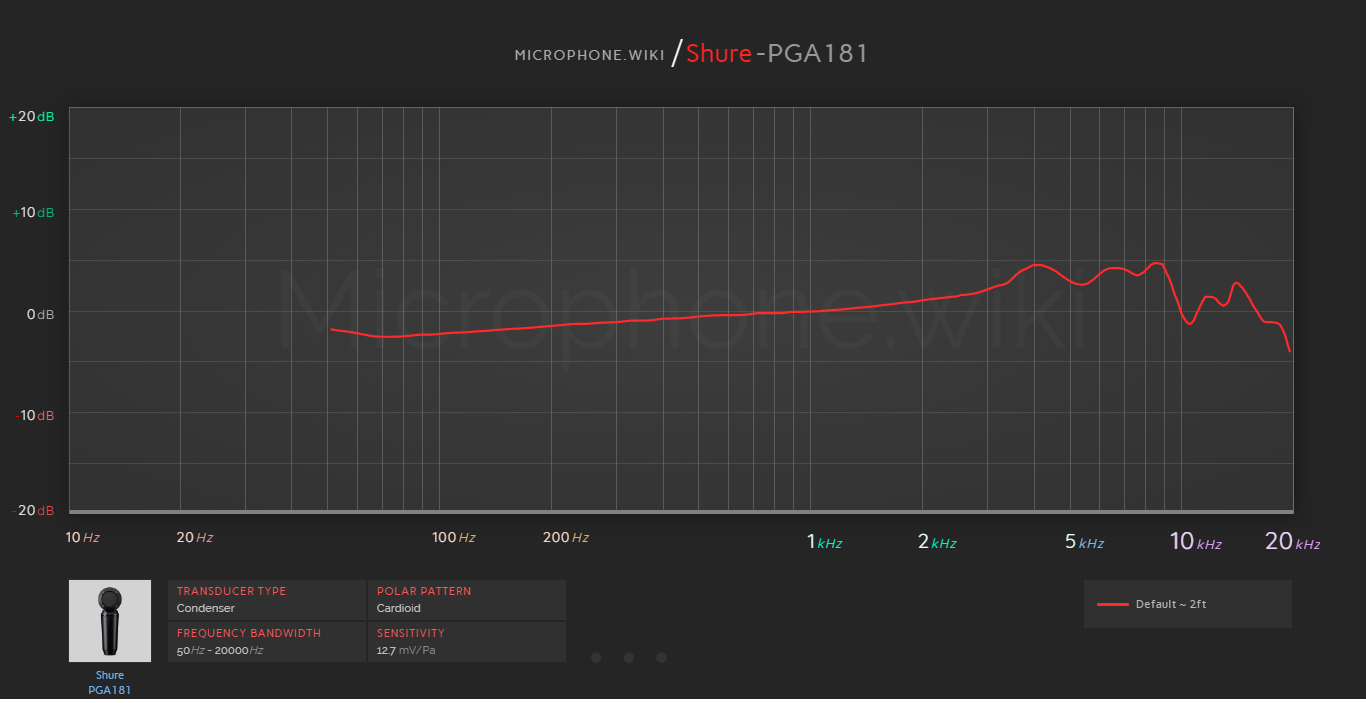 Technical Specifications
Transducer Type
Medium Diaphragm Condenser
Form Factor
Pickup Pattern
Cardioid
Frequency Bandwidth
50

Hz -

20000

Hz

Sensitivity
12.7

mV/Pa

Output Impedance
120

Ω

Rated Input Impedance
2000

Ω

Max. Spl
138

dB SPL

Self Noise
20

dB-A

Signal to noise Ratio

N/A

On/Off Switch
No
Pads

N/A

Connector
XLR
POWER REQUIREMENT
P48

V

Dimensions

N/A

(L) x

N/A

(B) x

N/A

(H) x

N/A

(D)
Weight
383

grams