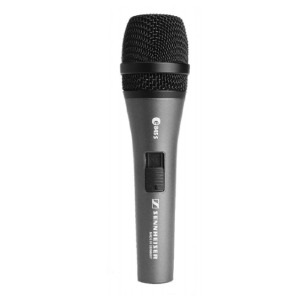 Sennheiser e845
Supercardioid, high-clarity dynamic vocal microphone
The sennheiser e845 is a handheld dynamic microphone with a tight "super-cardioid" polar pattern. Its primarily designed for live/stage vocal applications.
Essentially it sounds like the E835 but does all the jobs an E835 cannot do in a live vocal setup in terms of ambient noise isolation and feedback rejection.
"The overall sound reproduction is thin, precise in the mids and aggressive in treble (almost like a condenser microphone according to some users) , which is complimentary for warm and thick voices."
Other than vocals, the mic also does very well with acoustic guitars.
Its made in germany and comes with a 2 year of manufacturer's warranty. Its well built with a solid metal construction that's very forgiving in terms of abuse. The internal suspension of the capsule prevents handling noise and allows it to take any rough stuff it is likely to encounter on a stage.
A word of caution, it came to our notice that there are some chinese replicas of the mic circulating in the market, so we advise you to buy it only from reputable sellers. For example, if you are buying from amazon, check out the ratings of the seller and buy only if the seller has good ratings and has been around from a long time.
The e845 is a member of the Sennheiser evolution 800 series.
Like all evolution microphones, this mic also comes in two variants, one with a on/off switch (e845-S) and other without it.
Frequency Response Graph
Microphone.wiki
Can't View the graph ? Try refreshing this page or
click here
to view its image version instead.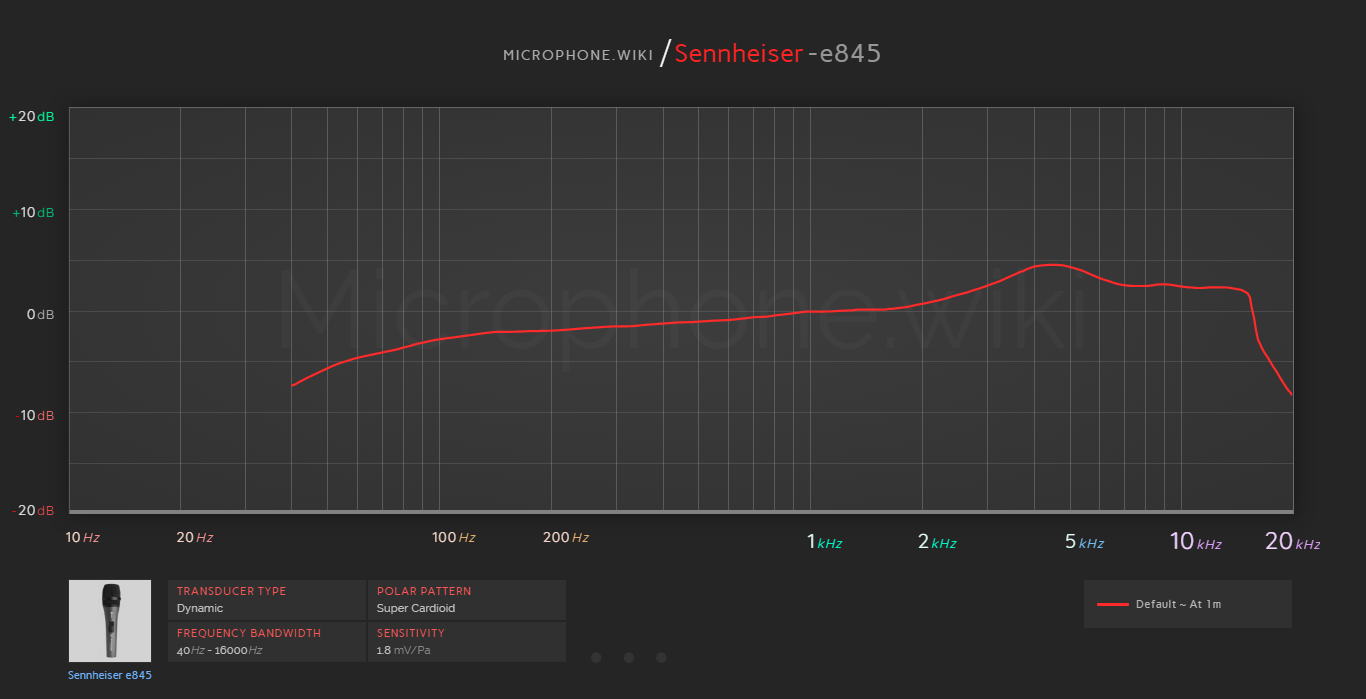 Technical Specifications
Transducer Type
Dynamic
Form Factor
Pickup Pattern
Super Cardioid
Frequency Bandwidth
40

Hz -

15000

Hz

Sensitivity
1.8

mV/Pa

Output Impedance
350

Ω

Rated Input Impedance
2000

Ω

Max. Spl
157

dB SPL

Self Noise

N/A

Signal to noise Ratio

N/A

On/Off Switch
Yes, Optional
Pads

N/A

Connector
XLR
POWER REQUIREMENT

Not Required

Dimensions

N/A

(L) x

N/A

(B) x 185

mm

(H) x 46

mm

(D)
Weight
330

grams