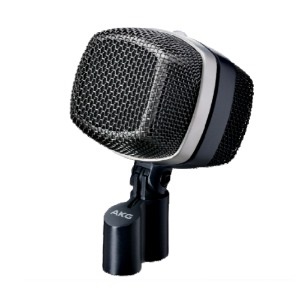 AKG D12 VR
Large Diaphragm dynamic bass microphone with variable tonal filters
The AKG D12VR is a unique dynamic microphone with wide low-end dynamic range, equipped with a large 1″ ultra-thin diaphragm that's capable of recording highly detailed lows. Its designed with the vintage taste of the original D12 while also maintaining the contemporary standards.
Featuring a cardioid polar pattern with upto 25dB off axis rejection, this mic can also be used from the sides for capturing sounds with a totally unique "mid-scooped" tonal character.
It comes with astounding 164dB SPL capacity (which is the sound level of a hand grenade btw) and according to AKG, they achieve this by using the "original C414 transformer" that effectively enhances high SPL audio signals.
The effective frequency response bandwidth of the D12VR ranges between 17Hz – 20Hz. It comes with three variable frequency response/tone configurations that can be enabled using phantom power and switched via the provided wheel filter onboard.
Without any phantom power, the mic delivers its true or flat tone which they call "passive mode".
When supplied with P48, the mic switches over to "active mode" and takes the frequency configurations from the filters. This mode also immediately accentuates the overall gain by -10dB.
Using the filter wheel:
When the filter wheel is turned at left position, it boosts the bass with a +7dB peak gain (in comparison to passive mode), centering at 46Hz and merges with the normal curve at 90Hz.Indicated by a green LED, this mode is ideal for capturing rich and powerful low-ends from a kick drum.
When the filter wheel is at center, it accentuates the mids spanning from 300Hz upto 1.3kHz by a peak cut of 6.93dB centered at 700Hz.This mode is indicated by a red LED and opens up sonic room for other instruments in the mix. Here the drum does sound tighter and not quite as thumpy – with more front note and less overall force. It's also recommended for open kick drums.
Lastly, when you turn the filter at right position, it combines the configurations of both the previous filters and adds a smooth presence/clarity boost that can be useful for sharp tail effect in drums.With a peak gain of 9dB at 6kHz, this setting neutralizes the cut between 4.2 – 8.2kHz from the normal mode. It is indicated by a blue LED.
Overall, we can say that the AKG D12VR virtually serves the function of four mics with different tonal characters.
Frequency Response Graph
Microphone.wiki
Can't View the graph ? Try refreshing this page or
click here
to view its image version instead.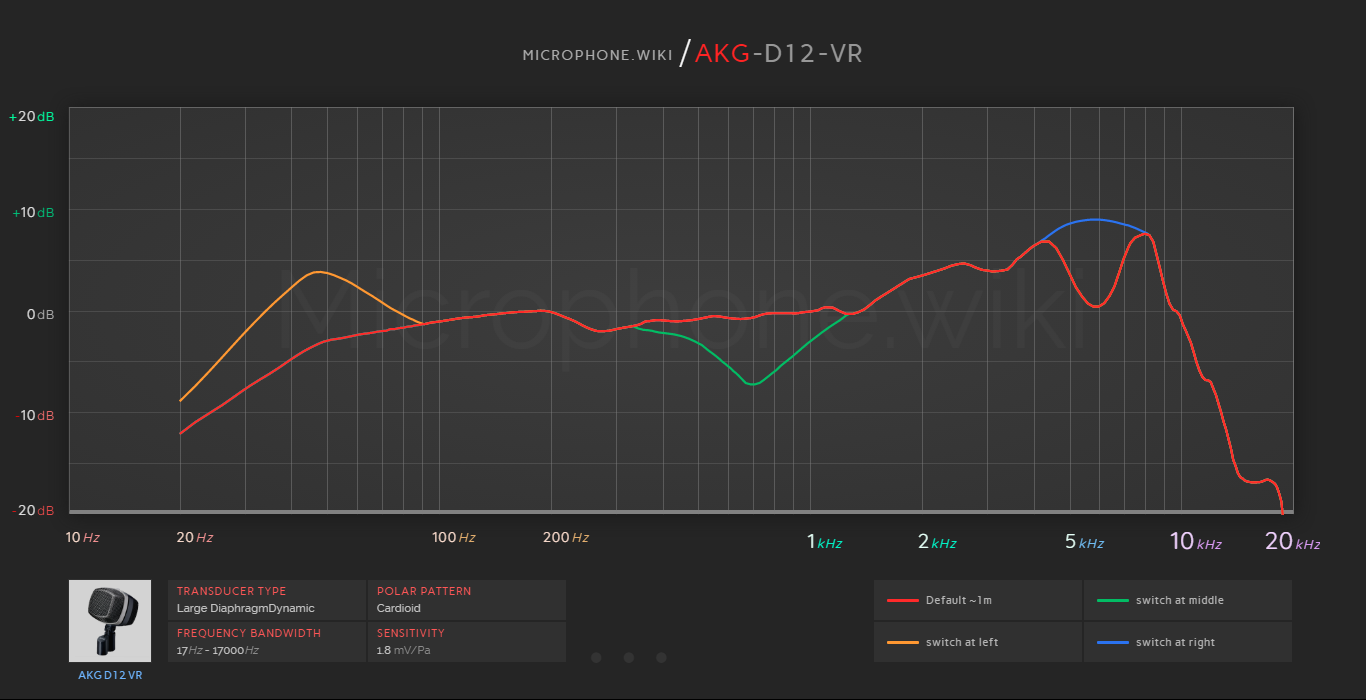 Technical Specifications
Transducer Type
Large Diaphragm Dynamic
Form Factor
End-Address
Pickup Pattern
Cardioid
Frequency Bandwidth
17

Hz -

17000

Hz

Sensitivity
1.8

mV/Pa

Output Impedance
200

Ω

Rated Input Impedance
1000

Ω

Max. Spl
164

dB SPL

Self Noise

N/A

Signal to noise Ratio
73

dB-A

On/Off Switch
No
Pads

Bass boost
Mid cut
Bass boost, Mid Cut, Presence boost

Connector
XLR
POWER REQUIREMENT
Dimensions
101

mm

(L) x 66

mm

(B) x 125

mm

(H) x 66

mm

(D)
Weight
500

grams